Well well well! Just got a new Apple iPhone (or an iPad)? All set to pass on your old Android phone to your near ones, if not want to get it recycled! But wait! What about all your data stored on your Android phone? This is where you are expected to pull your chair and have a leisure time transferring all your data from an Android phone to iPhone using a computer. But what if you don't have time, or want to get it transferred on-the-go?
This is where Cloud storage comes in picture! Cloud storage allows you to save all your data on different servers on the internet without the need of taking time to save it on a computer. Companies like Facebook, Google, Apple, etc. have their own dedicated servers that allows you to Backup all your data on their respective servers. Once done you can always synchronize your data from an old device to a new one without the need of a computer.
Although Cloud storage sounds a great idea, it comes handy only when you are looking to synchronize some few to hundred MBs (Megabytes) of data on a regular basis. If your data is in GBs (Gigabytes), which happened to be the case with people working on HD video content, you may need to follow certain steps as given below for data transfer.
1) Using a Computer via iTunes
iTunes is the most popular among iOS users to transfer data to iPhone or iPad, though its usage is little cumbersome specially if you are looking to transfer video files such as movies.
The transfer of video files can be initiated only if the files are in MP4 format. Also, in the process of synchronizing the existing files on the iOS device may get erased if left unchecked.
Image below is how your iTunes window looks like when transferring videos from a computer, or an android phone connected to a computer, to iPhone or an iPad. Make sure to check the "Sync Movies" and all the boxes of videos you want to get synchronized before clicking on the "Apply" button.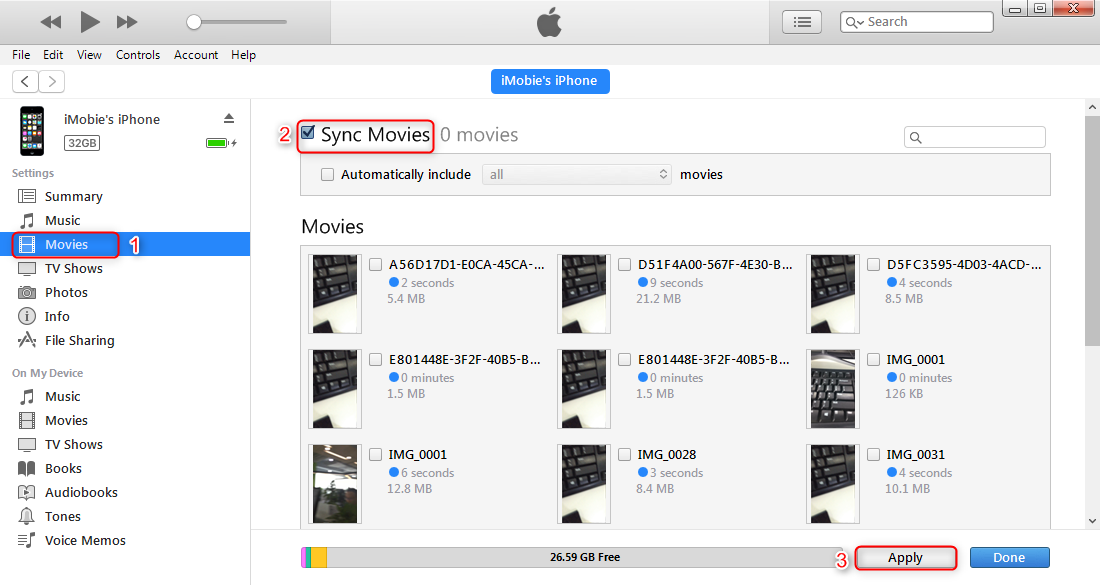 2) Using Move to iOS App
Move to iOS is Apple's in-house application meant to tranfer data including video files securely from Android to iPhone or iPad wirelessly. Here are the steps below to get you started.
a) Make sure you haven't set up your iPhone yet, but if already done, then just navigate to "Settings > General > Reset" and tap on the "Erase All Content and Settings" and proceed as per the on-screen instructions to erase everything from the device, followed by a reboot!
b) The reboot will followed by set up instructions, eventually ending on to the "Apps & Data" screen. This is where you can begin the data transfer by tapping on the option "Move Data from Android" to allow you to send data including videos from Android to iPhone.
Image taken from Apple.com
c) Next step, find the Move to iOS app in the Play store of your Android device, and install it.
d) Once installed, you may need to tap "Continue" on both the devices. Then tap Agree and then Next on Android. This will generate a secure 12-digit code on iPhone or iPad, that you can enter on your Android device.
e) Entering the code will give you an access to the data you desire to transfer to iPhone or iPad and boom!
3) Other Popular Apps to transfer files from Android to iPhone over the internet.
Apart from the above given choices, there are options like Google Drive, WeTranser, or using a video transfer tools that allows you to transfer large files such as videos over the internet.